Eternal Bond
Introduction
I have started to develop Eternal Bond as a part of a weekly challenge called #gameaweek in order to refresh and hone my programming and design skills on Unity after some months of no practice.
The game is quite small and simple but its development was a great way to come back to make games on Unity. Having time constrains is always a perfect way to push your boundaries and learn a lot. If you have not have tried it yet, I deeply recommend to attempt to develop a game in a week!
Game Overview
Eternal Bond is a 3D top down action game where you play a Skeleton who swore to protect his/her beloved for eternity. Uphold your promise and fight greedy treasure-hunters who continuously sneak in the crypts where she rests undermining her peace. But be careful: the intruders cannot touch the tomb or your bond will be weakened!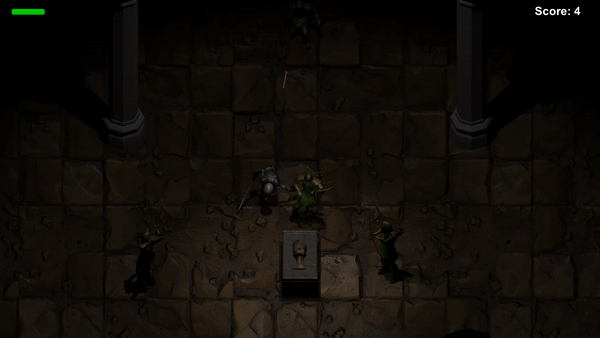 Controls
Keyboard and Mouse:
- Mouse on menus
- WASD or Arrows to move
- Space to Attack

Gamepad:
- Left Analog stick to move
- Button A (or X with PlayStation controllers) on menus
- Button X (or Square with PlayStation controllers) to attack

Feel free to leave me a feedback, report bugs and share your thoughts. This is just a prototype but would have further development in the future if people get interested :)

Follow Harbrus on:
► First YT Channel (ITA): https://www.youtube.com/c/harbrus
►Second YT Channel (ENG): http://tiny.cc/9kzw3y ►Telegram: https://t.me/harbrusgames
►Itch.io: https://harbrus.itch.io/
►Ko-Fi: https://www.ko-fi.com/Harbrus (Donation and Coffee!) ►Facebook: https://www.facebook.com/harbrus ►Twitter: https://twitter.com/harbrus1 ►Instagram: https://www.instagram.com/harbrus ►LinkedIn: https://www.linkedin.com/in/andrea-ortino-208b97128/
If you like this prototype, please consider donating to support me :)
References and Assets Used
Cover: https://www.deviantart.com/wittman80/art/Skeleton-Warrior-282977444
https://assetstore.unity.com/packages/3d/characters/humanoids/fantasy-monster-skeleton-35635
https://assetstore.unity.com/packages/3d/nefertiti-56818https://opengameart.org/content/animated-archer
https://assetstore.unity.com/packages/3d/environments/dungeons/crypt-dungeon-environment-138277
https://opengameart.org/content/bow-arrow-shot
https://opengameart.org/content/spell-sounds-starter-pack
https://opengameart.org/sites/default/files/ghostbreath.flac
https://opengameart.org/sites/default/files/shoot.ogg
https://opengameart.org/sites/default/files/male-pain-sounds.zip
https://opengameart.org/sites/default/files/melee%20sounds.zip
https://incompetech.com/music/royalty-free/index.html?isrc=USUAN1300030
https://www.dafont.com/ancient.font
Download
Click download now to get access to the following files:
EternalBond_Windows.rar
57 MB