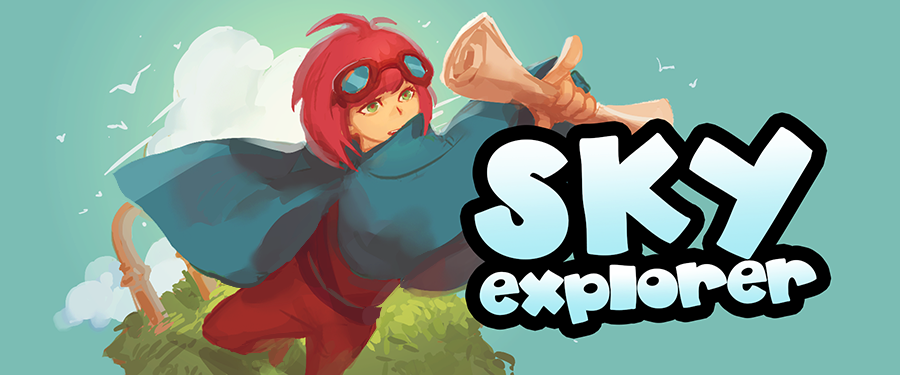 Sky Explorer

Overview


You play as Alya, a "Sky-Explorer" who wants to map out Skyland.
Navigate heaven by joining together Sky Maps as you platform towards each level's goal!

Game Features

Play a simple and sweet puzzle-platform game as Alya, sky-explorer.
Join maps together and create your own path in real-time. Toggle them on and off at your discretion.
Joined maps will shape the level elements. Use your brain to reach the end.
Get to the exit point as fast as you can and be the quickest player to finish the game. Share your timer in the comments below!

Input
Move: A and D

Jump: Spacebar

Climb: W and S

Open Map Menu: Hold Shift


Toggle Map On/Off: Left Mouse Button
Up to 2 maps may be toggled on at the
same time

Credits
Andrea 'Harbrus' Ortino: Team Leader and Game Designer
https://andreaortino.com
Mark Tulchinskiy - Programmer
markatulch@gmail.com
Devin Gajewski - Programmer
resdm123@gmail.com
Nathakorn Soontornworachan - Programmer
https://www.linkedin.com/in/nathakorn/

Lou Brown - Artist
https://twitter.com/HEARTSINGE
Tung Tran - Artist
https://www.instagram.com/tung_t_tran/
Vi Zou - Artist
https://vyzy.itch.io/
Noah Hughes - Composer
https://www.youtube.com/channel/UCTIYS4YXyp-Rwoo2BRNz_qA
Tom Dowling - Sound Effects & Music
https://www.youtube.com/channel/UCtTd-3zPoTEU8lPfz39esIg
Mario Luca Guarnaccia - Video Editor (Trailer)
| | |
| --- | --- |
| Status | Prototype |
| Platforms | Windows, macOS, HTML5 |
| Rating | |
| Authors | Harbrus Games, Lou, Tung T. Tran, Pop Nathakorn, marktulch, reslived, vyzy |
| Genre | Platformer, Puzzle |
| Tags | Game Maker's Toolkit Jam, Pixel Art, Puzzle-Platformer, Retro |
Comments
Log in with itch.io to leave a comment.
I really, really love the visual style ~~ great work!
Fun concept and great presentation! It's interesting how the maps overlay, and you kind of create your own levels using pre-defined chunks. It's neat swapping parts on and off on the fly.


I wanted to mention that it's hard on my wrist to hold Shift and A or D at the same time--I'm not sure if I have misunderstood how the player's hand is supposed to lay on the keyboard. It's also pretty tricky to navigate the mouse while Alya is sailing over a bottomless pit (I wonder if hotkeys would be better for this sort of thing). It is also difficult to read exactly when Alya will clip up on top of a platform or get pushed out to the side of it.
Anyway. Hopefully I'm not missing the point. Thank you for sharing this game!

I personally use a classic setup with my Pinky on shift. I see your points, we just did not have the time for polishing controls and also add a gamepad option. Thanks for the feedback ;)
Hey! I was wondering if I had permission to request this game for speedrun.com. I would give you credit for the game in the description.
Hi! Developer/Artist here,
We give you the blessing!! Much love <3
Love the aesthetic, great game.
it's well polished, love it! <3